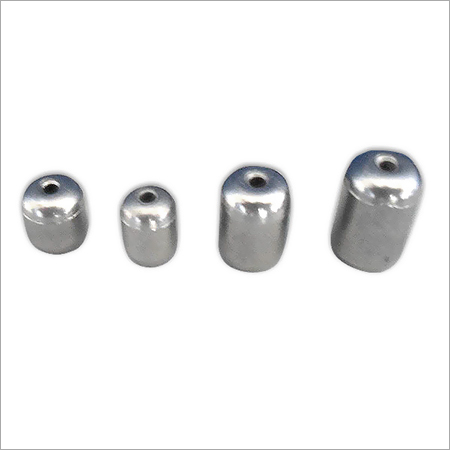 Tungsten Heavy Alloy
Price And Quantity
Kilograms/Kilograms

60.00 - 85.00 USD ($)
Product Specifications
WNiFe or WNiFe

Tungsten alloy
Product Description
We have profound knowledge and expertise in offering an outstanding collection of Tungsten Heavy Alloy. The alloy provided by us is manufactured as per the prevailing norms and regulations of the industry with the help of innovative technology. Our offered range of alloy is widely used in aviation, aerospace, automotive and foundry industries. Easily accessible in different dimensions and specifications as per the customers requirements, our valuable clients can avail this Tungsten Heavy Alloy from us at rock bottom prices.

Features of Tungsten Heavy Alloy:

Nickel-iron used as an additive in this tungsten heavy alloy and the ratio of this addition is 7Ni:3Fe or 8Ni:2Fe.
This is prepared by cold pressing and liquid phase sintering with high level of density.
The thermo-mechanical processing is done by swaging and aging therefore this tungsten alloy is robust.
This is having highly strength and solidness quality.
Our offered this product are best satisfied with teh W -Ni-Fe system.
Our offering alloys like 93W-4.9Ni-2.lFe and 95W-4Ni-lFe shows the common chemical compositions.
The submission of cobalt to a W-Ni-Fe heavy alloy is very simple and common approach for increasing strength and flexibility.
We add 5 to 15% cobalt to make this are more qualityfull.
Our offering product is extensively used in civil and defense application.
This is two times higher in density of steel metals.
These are having precision tolerance capability that makes it more effective product.
This is most appropriate for the roughening of cast iron.
The strength of this products is comparatively high and appropriate for non ferrous metal.
Our offering tungsten alloy are very high level of melting point capability.
These product are extensively used in civil aviation areas like aeroplane, helicopter.
This tungsten heavy alloy is having good corrosion resistance capability.
Area of Application:
Our offering high grade of tungsten heavy alloy can be used as -
This is widely used in civil and defense sector.
Our offering tungsten alloy is widely used in automobile like crankshaft and cylinder barrel etc.
High purity of alloy are specially applied in making in arms and weapons like guns, rockets etc.
Our offering alloy is widely used in sports like golf, fishing and racing car and widely applied in medical field.
Due to its higher density,tungsten alloy material is very popular as gold-plated substitution.
Manufacturing Process -
Mechanical processing
Inspection Process
Packaging Process
Deliver

Packing and shipping -

We are offering packaging of this product with moisture-proof paper
We provide packaging with craft paper thereby we make sure the safe and secure product delivery
We provide packaging in foam plastics, and wooden case and that is also in all sizes
Why Prefer Tungsten Heavy Alloy -

We have high class of skilled technicians and manager and we always believe in high technological advancements in terms of this product manufacturing.
This is nicely finished and used nice grade of tungsten as a raw material therefore it is highly demanding.
Our Offered product is having longer functional life and this product is very easy to make clean.
Our employees are highly skilled in mechanical and metallurgical engineering and they make sure good quality of tungsten heavy alloy production.
This is having very high melting point therefore it is highly durable product.
This is goes through different quality parameters thereby its quality becomes more superior.
Visual inspection is getting done for this tungsten heavy alloy in order to check the surface quality, flawlessness etc.
Due to using high grade of raw material it is very stable and durable product therefore it is highly demanding in market.
We ensure quality full packaging and timely delivery that makes us more valuable in the industry.
Main application of Tungsten Heavy Alloy:

Tungsten heavy alloy can be molded in any shape such as rod, bar, cube, brick, block, & plate as per requirements
It is widely used for making sports equipments such as a body of billet
Screws used in golf club are made by using this tungsten alloy only
It could be processed as a part of counterweight used in yacht, sailboat, submarine and the likes
Plays a major role for making ballasts that are utilized in aircraft and high speed vehicles
Required for making holders for oil well drilling and for making weight governors
Used as a radiation shield to resist harmful rays.
Bullet, rifle, missile and bomb, all are made by using tungsten alloy
Technologies/Certificate:

Design and machining
Professional inspection and technical data available
Authorized ISO 9001:2008 Certificate
Trade Information
10000kg Per Month

25 Days