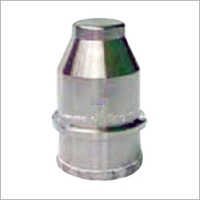 Tungsten Generator Shields
Product Description
Tungsten generator shields embodies a radioactive core supplied with an isotope, known molybdenum 99, that decomposes the daughter isotope, technetium 99m. This radioactive fluid is accumulated and disintegrated with sodium chloride, mixed with an array of diagnostic agents, and insinuated into patients. The radioactive substance gathers in the fixed parts of the body and can be seen by a gamma camera. The parent molybdenum 99 possesses a 2.75-day half-life, while the daughter isotope contains a half-life of only 6 hours, decreasing its time in the body.
Applied for the on-site transfoprmation of saline solutions into addministrable dosages of radiopharmaceuticals, Medi-RayTM's tungsten heavy alloy generator shields give both the effectiveness and the safety that is our forte.
Since marketing of its first Technetium 99 generator in 1972, Medi-RayTM has gone on becoming perfect with its tungsten heavy alloy generator shields designs and has been recognized by world leaders in the engineering of Technetium99 generators.
Our physicists and engineers hold more than 35 years of experience and expertise in designing and devloping the tungsten generator shields solutions to cater to one's needs.
Provided with brass-threaded and knurled closures, viewing windows of leaded glass, and our ergonomic non-slippery design and finish, these tungsten generator shields offer the optimal solution for "milking" the generators.
The Advantages of Tungsten Heavy Alloy Generator Shields:
The density of the material pertains to its radiation protective capability. The higher density means the better clogging and absorbing radiation ray. Owing to a higher density than the most other materials, tungsten heavy alloy generator shields embodies greater ability of absorbing and clogging rays than others metals including lead. Tungsten radiation shielding excellent linear tapering of gamma radiations means that the less is needed for equal shielding. Alternatively, equal amounts of tungsten heavy generator shields render reduced exposure risks than identical lead shielding.
Tungsten heavy alloy generator shields is the correct material for blocking off radiation, as its mixture of radiographic density (more than 60% denser than lead), machinability, excellent resistance to corrosion, outstanding radiation absorption (better than steel and lead), facilitated the life cycle and improved the strength. Tungsten heavy alloy generator shields can give the same degree of shield as lead whilt considerablly attenuating the overall volume and thickness of tungsten heave alloy generator shields and containers. Besides, compared to lead or depleted uranium (DU), tungsten generator shields is more congenial for the environments both lead and DU, as there is no any toxic.