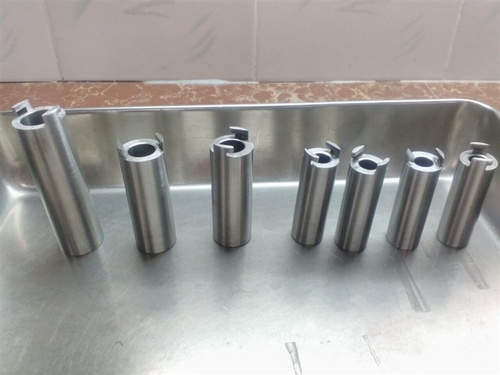 Tungsten Alloy Vial Shield
Product Code : 04
Product Description
Solid tungsten heavy alloy, unbreakable in the height and diameter, sized particularly for the reaction vial, disattachable top and bottom to lower down exposure during vial transfer. The hard tungsten would keep its shape intact under the rough handling and is almost unbreakable and allow the safe handling of radioactive liquids.
Tungsten alloy vial shield is fabricated to lower down exposure considerablly to vials having liquid radioisotopes. The shield is manufactured from .19" (.48 cm) thick tungsten, corresponding to .38" (1 cm) lead at 150 keV.
This can be loaded from the rear and the top of the shield. A loss-proof injection port on the top offers easy access to the vial septum.
Customized design:Can be custom-designed in terms of thickness and inner diameter
Tungsten Alloy Vial Shield
Guangxi Chentian Metal Products Co. Ltd vial shield has an innovative sliding cover that is thicker and gives better protection than other traditional "swing-top" vial shields. It is fabricated in a design that allows to be ergonomically operated with the use of the thumb, ensuring the safe and effective one-handed operation. With brass-threaded discrading tops and bottoms, vial shield designed by us facilitates the insertion of the vial into the vial shield from either of the ends, whichever befits one's particular situation and protocols. Plastic inserts are available for all our vial shields for conveniently adjusting smaller vial sizes.
Flip Top Tungsten Alloy Vial Shield
Flip-top tungsten alloy vial shield, designed by us, guarantees highly thicker shielding as well as the comfort and safety of a gravity-operated top closure.
The flip-top tungsten alloy vial shield can adjust the bigger vials than our small modular design vial shields. Plastic inserts are readily available for all vial shields so as to safely adjust smaller vial sizes.