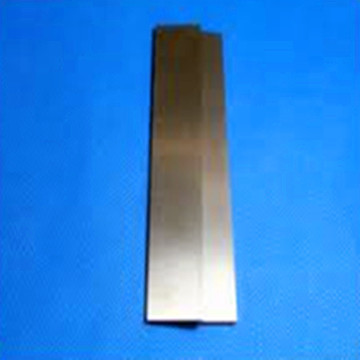 Tungsten Alloy Strip
Product Code : 13
Product Description
We are a foremost name in the manufacturing, exporting and supplying of standard quality Tungsten Alloy Strip. The offered alloy strip is used in engineering, electrical and automotive industries. The provided range of strip is examined on various well defined parameters to ensure its excellent quality and eliminate any kind of defect. Apart from this, offered Tungsten Alloy Strip is manufactured under the vigilance of our experienced professionals using premium grade tungsten alloy and advanced technology in tune with set market norms at feasible rates.
Features:
Accurate dimension
Rigid construction
Corrosion resistance
Easy to install
Further Details:
Our ambit of tungsten alloy strip is slight in volume and it is extremely dense, which states that it can be utilized in every applications that require compact but hefty components like counterweights for boat, sailboat, helicopter, tank, racing car, yacht, airplane, racket, etc. The most common application of our product is in radiation protection in variety of radiation security wall, protection for X-ray pipe, Tungsten Vial defense, etc. Tungsten mixture normally includes of W-Ni- Cu, W-Ni-Cu-Fe or W-Ni- Fe while few tungsten mixture comprises Mo, Cr, Co, etc. All these applications make optimum uses of its capability of superlative radiation absorption.

Our company manufacture our products that are accurately machines, rust and wear resistant with utmost care to fulfill your every requirements.

Tungsten alloy strip offer a non-toxic and safer option to lead. Their greater solidity allows them to take in radiation with low volume and posses their form better, even under critical conditions.

Tungsten alloy strips provide a safer and non-toxic alternative to lead. Their higher density enables them to absorb more radiation with less volume and hold their shape better, even under extreme conditions. While exhausted uranium serves relative hardness, its radioactive property and all the unique licensing needed for radioactive items, which makes execution of operation difficult and costly at the same time.

Why Us -
We are offering this tungsten alloy strip on very reasonable price
We have advanced machines and utilize quality tested tungsten as a raw material in order to manufacture quality full tungsten alloy strip
Our highly skilled staff is able to perform efficiently in house large scientific and technical calculations
Our Offered products are having very longer functional life and easy to make use
Our employees are highly skilled in mechanical and structural engineering
We Have More experienced designers and we always believe in technological advancements