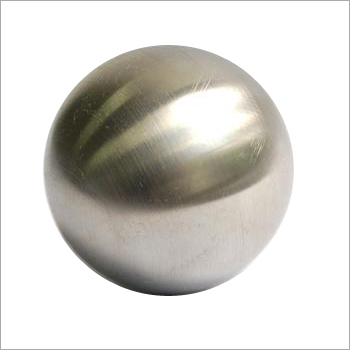 Tungsten Alloy Sphere
Product Code : 22
Product Description
Founded in 2001 and relying on our strong workforce and world class infrastructure, we are able to offer our clients paramount quality Tungsten Alloy Sphere. The provided sphere is mainly used for making electrical equipment and finds its wide usage in defense, automotive and electrical industry. It is manufactured by utilizing optimum quality tungsten alloy and the latest technology under the guidance of our brilliant professionals. In addition to this, clients can avail this Tungsten Alloy Sphere from us in diverse specifications at highly discounted prices.
Features
Impressive thermal conductivity
Corrosion resistance
Low thermal expansion
Highly density
Low volume and high density
High density
Sturdy design
Withstand high temperature
Rust resistance
Why Us -
We are offering tungsten alloy sphere on very competitive price
Our offered tungsten alloy sphere are appreciated by our esteemed clients
We always ensure timely delivery of tungsten alloy sphere
We are able to customize the tungsten alloy sphere
We are reputed manufacturer and exporter of tungsten alloy sphere in the international market
We have skilled technicians and manager and we always believe in high technological advancements in terms of tungsten alloy sphere manufacturing
Application of Tungsten Alloy Spheres:

Tungsten alloy sphere is widely demanded for making small heavy duty parts. This sphere can be used as fishing weights, counterweights for golf clubs, oil logging, hunting gun.
Tungsten alloy sphere is known for its high density by which it is preferred to be used in precision industry such as mobile phone vibrator, anti-vibration toll holders, flywheel weights, etc.
Advantages of Tungsten Alloy Sphere as Fishing Sinkers/Weights:

Small volume: High thickness makes volume of tungsten amalgam angling sinkers/weights littler than the traditional lead angling weights. It will be hung up far short of what a lead sinker on account of its littler size.
Hardness: Tungsten composite circles are harder than lead angling weight. It won't be stuck in the cheek of the fish. So the shape will be kept up more.
Solid wind safety: High thickness of tungsten, the tungsten composite angling sinker makes your angling less demanding. Tungsten composite circles are greatly touchy and can really help you "feel" what the base is made of and what your snare is chancing upon, for example, brush, rocks, mud, and so forth.
Technical Details :-
Brands

Physical and Mechanical Properties

Density
g/cm³

Hardness
HRC

Tensile strength

Elongation %

Toughness
MJ/m²

W263H

17.25±0.15

≥35

≥1050 MPa

≥8

≥0.3

W253H

17.40±0.15

≥35

≥1050 MPa

≥8

≥0.3

W243H

17.60±0.15

≥35

≥1050 MPa

≥7

≥0.3

W232H

18.10±0.15

≥37

≥1050 MPa

≥6

≥0.1

W231H

18.30±0.15

≥37

≥1050 MPa

≥3

≥0.1

W221H

18.50±0.15

≥37

≥1050 MPa

≥2

≥0.07

W243H

17.60±0.15

≥40

≥1300 MPa

≥6

≥0.15

W232E

18.10±0.15

≥40

≥1300 MPa

≥6

≥0.15

W273

17.10±0.15

≥23

≥900 MPa

≥24

≥1.30

W263

17.25±0.15

≥23

≥900 MPa

≥23

≥1.20

W253

17.40±0.15

≥24

≥900 MPa

≥22

≥1.10

W243

17.60±0.15

≥24

≥920 MPa

≥20

≥0.90

W232

18.10±0.15

≥25

≥920 MPa

≥14

≥0.45

W231

18.30±0.15

≥26

≥920 MPa

≥12

≥0.30

W221

18.50±0.15

≥27

≥920 MPa

≥10

≥0.22

WNiCu

16.00-18.50

≥22

≥450 MPa

2-8

/