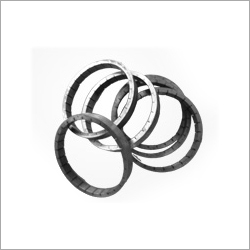 Tungsten Alloy Rings
Price And Quantity
Kilograms/Kilograms

60.00 - 85.00 USD ($)
Product Specifications
WNiFe or WNiFe

Tungsten alloy
Product Description
Having acquired a remarkable position in the market we bring forth a comprehensive range of Tungsten Alloy Rings. The provided alloy finds extensive usage in automotive and general engineering industry. Our offered rings are tested by team of experts in order to deliver the finest quality products at clients' end. The rings provided by us are manufactured by utilizing premium quality tungsten alloy and cutting-edge technology in adherence with guidelines set by the industry. Additionally, Tungsten Alloy Rings can be accessed by our prestigious customers at convenient rates.
Features:
High density
Strong construction
Precise dimensions
Chrome finish
Convenient application process
Sturdy design
Corrosion-resistance
Dimensionally accurate
Further Details:
Fragmentation warhead is among the major kinds of warheads, generally by the part of elevated energy explosives, the emergence of a large figure of high-pace pieces, employing higher-speed striking the parts, the role of lighting and explode damage marks. Our tungsten alloy rings can be utilized for non-effetives (animal and human), no shield not light and can be used for anti-effectives (human, animal), no armor or light ironclad vehicles, radar, missiles,aircraft and other various equipment and weapons. In compliance to the formation of pieces channels, fragmentation warhead can be segmented into pre-control, pre-fragmented and natural warhead kinds.


Initial parts are shaped as an outcome of smashing of the covering of traditional munitions. Tungsten mixture per-created pieces normally are compact and move primary at speed of the sequence of thousands feet per second. Subsidiary tungsten mixture prefabricated parts are developed as an effect of elevated blast forces on structural elements and products in close vicinity to the detonation. These pre-made pieces are rather bigger than prime fragments and move initially at speeds in the series of hundreds feet per second. A dangerous prefabricated piece is one possessing an impact power of 58 ft-lb (79 joules) or larger. Tungsten mixed prefabricated segments devising a pre-process will be form and quality of pre-planned steel arrows, steel ball, tungsten sphere/tungsten ball. Tungsten pre-created column pieces produced pre-built sets of body pieces, and introduced in the grenade missile exterior surface or internal surface.


These pre-made missile fragmentation bomb detonation with the fabrication of parts together constitute the inherent fragmentation area because of the resistance of pre-manufactures pieces flying feature constant, with tungsten mixture pre-made fragments of the bomb will be fit within the model of the lethal outcome of a comparatively dense, full-bombs a higher degree of deadliness increase.


Tungsten heavy alloys normally comprise of W-Ni- Cu or W-Ni- Fe or even W-Ni-Cu-Fe, few tungsten mixture also incorporate appended cobalt (Co), etc., The essential characteristic for tungsten mixture cube is its compact volume and high density. The most important property for tungsten alloy cube is its small volume and high solidity. This permits it to be utilized whenever small but hefty sections are required, such as prefabricated parts for military usages as they will impact the negative outcomes of projectile body constructions, normally only in less-force chamber, which utilizes ammunition and artillery like pressurized large-caliber grenades and bullets. Usages also are the most usual grenades, mines, aircraft shells and so on. These are also used in can form like L70-type 40 mm and Switzerland, where overhead is occupied with tungsten calcium carbide ball. The technology of our gamut is used on all sorts of warheads whereas cylindrical parts (tungsten column) are often utilized as a kind of tungsten mixture pre-manufactured parts. Due to armor-piercing capability and elevated density, our product is highly in use for military purposes.

Why Us -
We are offering tungsten alloy rings on high competitive price
Oral inspection is getting done for this tungsten alloy rings in order to check the physical quality of this product
Due to using high grade of raw material it is very stable and durable product therefore it is highly demanding in market
We are able to customize this tungsten alloy rings as per client's requirement
We ensure nice and quality full packaging and timely delivery that makes us more valuable in the industry as well as more demanding too
We are able to produce this product as per demand of client
Our offering tungsten alloy rings are always very reliable therefore it is very much demanding
Trade Information
10000kg Per Month

25 Days