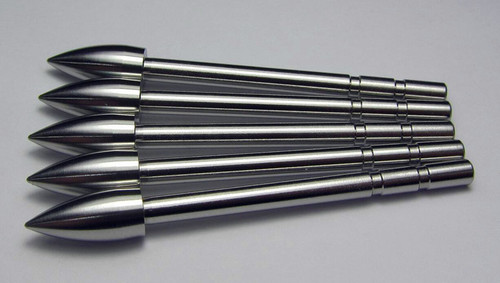 Tungsten Alloy Points
Price And Quantity
Kilograms/Kilograms

66 USD ($)
Product Specifications
1.0-10.0 Millimeter (mm)

shotgun hunting
Product Description
Tungsten Alloy Points


Break-Off is a standard point, and it is equipped with one or more than one break-offs at its end. This system of break-off provides high flexibility for the tuning of arrow.


Shape: Bullet-Shape

This standard form is used often in Fita target shooting. With its round shape, it is gentler to target as well as easier to drag out.


Material: Tungsten (Wolfram)

With high hardness, consistency & density, Tungsten is a superior white metal. It is approximately three times heavy than the conventional stainless steel, and thus perfect for arrowheads to shift the weight into the arrow point. Its another advantage is that it gives the arrow tuning. The deposit of tungsten on the earth's surface is about 0,0001 g/t, and therefore it is a very rare metal, and very expensive as well.


Break-Off Technology

For carbon arrows, break-off points adapt the standard arrowheads with the attribute that it is achievable to tune the weight. By design, the Grooves for glue at the shaft of the head are low- shaped. This ensures effective use of glue, and wrongly spread glue can cause instability.


Installation
After some 60 seconds, the Break-Off point perfectly sticks together with carbon shaft. Also the carbon shaft has to be whet from inside and solvent cleaned. 1-2 drops of Bond onto the head shaft, push in rotating movement the whole way until it is close fastened.

Accuracy of Run-point of the arrow point is: 0.006 µ


Break-Off

At its end, the head has one or more break-offs. These can be broken off at ease to acquire the perfect arrowhead weight.

Specific insertions at break off area ensure that the endurance of the weight after breaking off a part, is perfectly slight.


Key advantages of Tungsten points:

Shorter, and result in lower side area of arrow.
Heavier, and hence offer a heavier arrow.
Less likely to bend, stainless steel points bend easily because they are long as compared to the tungsten points. But they will bend less than the regular points. As a result, tungsten points last for several arrow sets.
As far as the longevity is concern, bend-ability plays a vital part, and if the point is found to be flexible, the chances of the carbon at the forefront being damaged are relatively high. Points 1 and 2 show that the tungsten points arrow will drift less. Through the combination of higher weight and less surface area, the drift is reduced by approximately 3%.