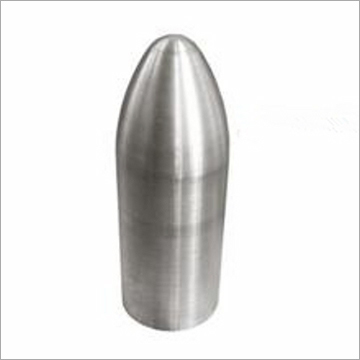 Tungsten Alloy Kinetic Energy Penetrator
Price And Quantity
Kilograms/Kilograms

60.00 - 85.00 USD ($)
Product Specifications
WNiFe or WNiFe

Tungsten alloy
Product Description
Being one of the reputed firms in the market, we are engaged in manufacturing and supplying an excellent range of Tungsten Alloy Kinetic Energy Penetrator. It is used to penetrate kinetic energy the target. The Tungsten Alloy Kinetic Energy Penetrator is designed using optimum quality tungsten and ultra-modern technology in compliance with the set industry standards. Before final dispatch, it is rigorously checked by our team of experts.
Features:
High strength
Fine finish
Corrosion resistant
Further Details:
Our Tungsten Alloy kinetic energy penetrator is also well known as KE weapon, which is a kind of ammunition like bullet that does not have volatiles and utilizes kinetic energy to stimulate the aim.


The alternate method to tungsten kinetic power penetrator employ chemical power penetrators. There are two varieties of these shields: high explosive squash head (HESH) and high explosive anti-tank (HEAT). They have been utilized against protection in the foregone and still possess a part but are little effectual against contemporary complex armor like Chobham as operated on major battle reservoir today.


The value of our product is that it employs its own kinetic power, which is an operation of velocity and mass, to pressure its path via armor. The advanced KE weapon increases KE and decreases the place over, which is catered by:
Being shoot with an extremely top muzzle speed.
Focusing the pressure in a compact collision place while still holding a comparatively huge mass.
Increasing the mass of whatsoever quantity is engaged by the missile, i.e., applying the heaviest metals applicable, which is one of the causes exhausted uranium is frequently utilized.
Our range of Tungsten kinetic energy penetrator has caused to the contemporary designs, which match with a lengthy metal arrow.


Accumulation of pressure into a littler field was earned by substituting an individual metal (normally steel) shot with a whole shot utilizing dual metals, a hefty center (supported on tungsten) inward a lighter metal outermost shell. These patterns were best-known as Armour Penetrating Composite Rigid (APCR). On effect, the central had a more concentrated outcome than simple metal stroke of the identical load and extent.


To increase the quantity of kinetic force discharged on the mark, the penetrator essential be made of a heavy material like depleted uranium (DU) alloy (Staballoy) or tungsten carbide. The solidity of the penetrator is of rare value, but is still a cause as scrape is a leading element of the penetrator failure performance. A ordinary idea is that, at the course of impact, injuries along with bands reason the end of penetrator to incessantly cast off material, keeping the tip's conelike form, whereas different materials like unjacketed tungsten incline to change into a little effective circled profile, an consequence known as "mushrooming". In reality, the constitution of adiabatic crop bands, which means that the parts of the "mushroom" lean to break off sooner, major to a small head on effect, although it will still be importantly "mushroomed". Trials have displayed that the gap drilled by a DU missile is of a thinner diameter than for related tungsten missile, which is one of the grounds why tungsten kinetic energy penetrator is worth than the DU.

Trade Information
10000kg Per Month

25 Days