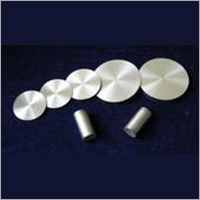 Tungsten Alloy Disk
Product Code : 120
Product Description
Leveraging the technological advancements and support of qualified professionals, we committed to offer the best quality Tungsten Alloy Disk to our clients. The disk offered by us is widely used in engine, electric power, electron, metallurgy, spaceflight and aviation industries. Available in different dimensions and specifications as per the exact needs of the customers, this disk is manufactured keeping in mind the set international standards by making use of excellent quality tungsten and latest technology under the vigilance of dextrous professionals. In addition, our honorable clients can avail this Tungsten Alloy Disk from us at highly discounted prices.
Features:
This tungsten alloy disk is totally corrosion resistant therefore it is having long life
High Density of this product makes it more valuable
Due to robust construction of this product makes its more robust and solid
Precise dimensions and customization as per need of customer is its unique feature
This tungsten alloy disk is widely used in automobile industry
We use latest technology to manufacture this tungsten alloy disk
Further Details:
Tungsten alloy disc is formed of extremely heavy metal. It is 1.7 times denser than lead. Sole platinum, gold and a some other uncommon metals have a akin density. Owning more intensive weight means possessing more regulation with weight arrangement in your vehicle to attain the center of nucleus that you are aiming. Tungsten hefty alloy is also environmentally friendly and non-toxic that is the reason it is riskless for adults and children to work and handle with tungsten heavy mixture. It commonly used as pinewood derby load as well as it is a type of tungsten hefty alloy form.

GUANGXI CHENTIAN METAL PRODUCTS CO., LTD can provide our range in sole 8, 6, 3.6, 2, 3, or 4oz ring for simple stead weighting of Pinewood Derby, sport car loads. The items measures 1" dial x .38" minimal up to .52" deep getting deeper with the heftier mass. You can utilize tungsten mixture round to excellent tune the load. It is also used as counterweight in military defense and various other areas.

Characteristics of tungsten mixture disc: Elevated-density tungsten mix disc is formed from top quality materials.
Material Used: W Ni Cu and W Ni Fe.
Size: We can design our range as per our customers' request.

Application: radiation shielding, balance weight, etc.

1. High-solidity.
2. Absorption capacity of high gamma rays and X-rays.
3. Amazing mechanical features.

Why Us:
We are offering this tungsten alloy disk at very cheaper and competitive price
Our highly skilled staff is able to perform technical calculations and scientific research on very large scale for tungsten alloy disk
This tungsten alloy disk is nicely finished and used nice grade of tungsten as a raw material therefore it is highly demanding
Our Offered tungsten alloy disk is having longer functional life and this product is very easy to make clean
Our employees are highly skilled in mechanical and metallurgical engineering and they make sure good quality of tungsten alloy disk production
This tungsten alloy disk is of very nice quality and it is very durable product
This tungsten alloy disk passes through different quality parameters thereby its quality becomes more superior