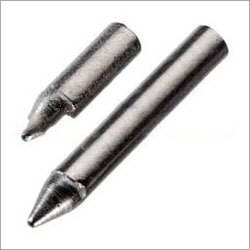 Nail Shape Tungsten Alloy
Product Code : 02
Product Description
We bring forth a wide range of Nail Shape Tungsten Alloy. It is inserted into soft plastic lures such as soft-plastic baits, jerk baits and sticks in order to add small amount of weight in them. The Nail Shape Tungsten Alloy is designed by our team of qualified professionals in compliance with set industry standards. Prior to dispatch, the product is thoroughly examined on various parameters.
Features:
Easy installation
Fine finish
Stiff and sturdy design
Further Details:
An accepted strategy to balancing down smooth malleable has been the occurrence of compact Nail Sinkers to append little sums of load internally to supple plastic entices. Tungsten mix nail angling sinker is fine, nail-alike loads placed into soft-plastic hooks (finesse worm or sticks, jerk baits) and utilizing spikes to succor handle them in spot.

Tungsten sinker property ridges to forbid them from slithering away from the plastic that can be employed to scale rigged jerk hook for inherent-looking fall. While you are fishing, load down smooth plastics with our compact tungsten sinker, which keep in place with the help of barbs. We have made our tungsten by using eco-friendly material. It is also harder and denser than the conventional lead loads.

Advantages of our Tungsten mixture nail angling sinker:
Elevated density along with compact capacity, resistance against strong wind, nuisance free and global environment conservation standard.

Our company can also provide tungsten such as beads, jigs and sinkers in many shapes like drop, semi-drop, bullet and cylinder. In addition, we also offer customization as per customers' 2D or 3D drawing or even design for them.

Why Us -
We are offering tungsten alloy nail shape at very competitive price

Our offered tungsten alloy nail shape are appreciated by our esteemed clients

We always ensure timely delivery of tungsten alloy nail shape

We are able to customize the tungsten alloy nail shape

We are reputed manufacturer and exporter of tungsten alloy nail shape in the international market

We have skilled technicians and manager and we always believe in high technological advancements in terms of tungsten alloy nail shape manufacturing